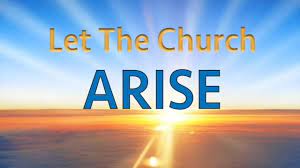 There is a song the choir sings by Michael W Smith called "A New Hallelujah"  here are the opening words:
Can you hear, there's a new song
Breaking out from the children of freedom
Every race and every nation
Sing it out sing a new Hallelujah
Let us sing love to the nations
Bringing hope of the grace that has freed us
Make Him known and make Him famous
Sing it out sing the new Hallelujah
Arise
Let the church arise
Let love reach to the other side
Alive come alive
Let the song arise
Much of the world is hurting, and literally going crazy. There are rumors of wars, we are fighting a pandemic, there is political unrest and turmoil within our society and in our towns and too often even in our homes. Many places are experiencing lack of law and order and civil disobedience. If you want to get depressed real fast just turn on the news.  So one must ask, "Is There Hope?"
The answer to that question is a resounding yes!  However, our hope and the solutions to all this mess will not come from a political hero or a political party, it will only come when the church realizes its power and rises into the role it should have in our society!  We are called to be the light on the Hill. We are to be the salt of the earth and the source of the eternal refreshing waters of the Holy Spirit. Believers must come together and arise and demonstrate to the world that Jesus and His ways are our only hope!  Let's face it, the church has become impotent in our society and I know why. It is because as the bible teaches in
Isaiah 56:3 
As your pastor I want to be your leader so here is what I am doing to walk closer with Jesus this year. I have vowed to use more of my time to get closer to Jesus. Because I know that the closer I walk with him the better I learn to discern his voice and the stronger my faith becomes, the deeper I understand his teachings. Jesus is looking for Disciples, people he can empower to become kingdom builders in the midst of the chaos in this world. Too much of my time has been "Wasted" on meaningless things such as internet searches, facebook video's, and other activities that did nothing to bring me closer to Jesus. Many of you can relate how easy it is for a couple of hours every day to slip by here and there because we find ourselves doing things that really are meaningless. I wonder how much more effective I could have been as a pastor had I spent all those meaningless hours on prayer instead instead of the meaningless activities that add up to nothing!
Here is what is keeping the church from being the light and the power it once was. We as individuals who make up the church have been greatly distracted and this is by design. Satan is using the conveniences and the technology of todays world to offer the same fruit that was offered to Adam and Eve in the Garden of Eden. And he is disguising this sinful fruit with the same lie that was used back then, you surely won't die if you use the internet and all of the interesting things you can learn there! God doesn't care if you spend your time there, after all you are a Christian and He loves you. You are doing nothing wrong, and everyone is doing it!  It is a trap people. As our PCF singers sang at a funeral for Mackenzie Allen this past week, Come to to Jesus, Run to Jesus, Fly to Jesus, and live!  There is world changing power in knowing Jesus and walking in his ways.
This Sunday at 9:00am on Facebook live I will have much more!  There is world changing power in walking close to Jesus!
Love, pastor kent
Our updated prayer list
Mackenzie Allen, who passed away this past week. Please pray for Mackenzies family. God's peace and strength for the Allen family.
Keith Sedlacek passed away this past week from his long battle with lung cancer. We ask for prayers for his wife Linda and the Sedlacek family for God's peace.
Jason Burton, Jason is a good friend of Gary and Cathy Watson. Jason is in his 40's with a young family and has been diagnosed with cancer. He is unable to work at this time and he is the sole provider. We ask for God's intervention into this situation, that His Glory, Peace and Healing will come and lift this family out of their worries and fears.
Don Kruckeberg, Continued prayers for God's Healing peace and strength. We pray that Don may be surrounded with God's love and peace.
Mike Rodgers, Mike is Lori's husband and has been on disability for some time due to his many back operations. We lift Mike to Jesus and His healing spirit. Lord we ask for your Peace and Joy to fill Mikes life.
Ray Queen, a resident at Beverly Farm who has recently been put into hospice care. We pray for God's peace for Ray and His family in this time of transition..
All Local Churches, pray for all the churches in this town to be filled every Sunday with people seeking to come to know Jesus and become part of His family
Praise Community Fellowship, A Joyful church with No Walls! 9:00am Sundays at Esic Church located at 1000 University Drive Edwardsville.   God's Truth with Love and Compassion. Praise Community Fellowship Church is a 100% volunteer Church. We have no salaries or paid positions. Come be part of a Joyful Christian Family!   Have questions? Call Pastor Kent @ 618-334-3575. Or Board President. Gary Watson @ 409-781-6510