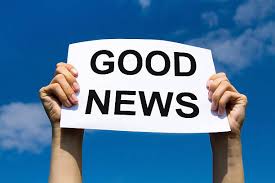 The world needs Good News. There is plenty of negative, depressing News. So this morning after reading my bible, I wanted to share several Good News items for the PCF Family.
Darlene Hanks Rutkowski texted me Sunday afternoon and told me just just finished reading the entire bible!
Barb Weiss sent me a message Sunday and said she is in her new place in Colorado and loves the beauty of the mountains and that she is doing good, but she does miss the PCF family.
Jennifer Kaburick and I are averaging well over 125 views of our online services on Sunday's. Remember when we were still meeting at the church and I said God had prompted me that we would have 125 regular attendees?  AND several of the viewers are young people!
God's promises to you and I are in effect and are just as true and powerful as they have always been when applied to your daily life.
Making Jesus and His teachings number 1 in your life will still be the quickest and most effective way to bring positive change into your daily life.
Love will always win!
1 John 4:7-21
God Is Love
 Beloved, let us love one another, for love is from God, and whoever loves has been born of God and knows God.  Anyone who does not love does not know God, because God is love.  In this the love of God was made manifest among us, that God sent his only Son into the world, so that we might live through him.  In this is love, not that we have loved God but that he loved us and sent his Son to be the propitiation for our sins.  Beloved, if God so loved us, we also ought to love one another.  No one has ever seen God; if we love one another, God abides in us and his love is perfected in us.
 By this we know that we abide in him and he in us, because he has given us of his Spirit.  And we have seen and testify that the Father has sent his Son to be the Savior of the world.  Whoever confesses that Jesus is the Son of God, God abides in him, and he in God. So we have come to know and to believe the love that God has for us. God is love, and whoever abides in love abides in God, and God abides in him.  By this is love perfected with us, so that we may have confidence for the day of judgment, because as he is so also are we in this world.  There is no fear in love, but perfect love casts out fear. For fear has to do with punishment, and whoever fears has not been perfected in love.  We love because he first loved us.  If anyone says, "I love God," and hates his brother, he is a liar; for he who does not love his brother whom he has seen cannot love God whom he has not seen.  And this commandment we have from him: whoever loves God must also love his brother.
Let's Pray: 
Beverly Farm, For God's protection pf the staff and the employees during this COVID outbreak.
All our Nations leaders, God we ask you to send the power of your Holy Spirit filling our leaders with Wisdom and Holy understanding, and love so that our country will return to you and your ways.
Rob Ebert, Rob is a good friend of Peggy Gain. Rob needs our prayers as he is battling an aggressive cancer.  Prayers of God's Peace, Strength, Wisdom, and Healing.
Mary and Lee Knapp. We continue to pray for God's healing touch for both Lee and Mary.
Mary Berry, continued healing for Mary.
Mike Rodgers, continue prayers for Mike as he needs to have two more surgeries one for his carotid artery and bypass surgery for his heart.
Ben Stunkle, because Ben has been moved to an acute care facility to continue rehab and healing from his accident, his mom Kyle McCracken Stunkle can no longer visit him during this Covid virus outbreak. We lift both Ben and Kyle to Gods Grace and healing love during this difficult time.
Don and Lois Kruckeberg, Denise Reeders parents. Continued prayers for God's peace, patience, and wisdom for Mark and Denise and Don and Lois.
Russell Boster update, Russell is Jane Mckinney's sister who has been battling ovarian cancer. She is continuing Chemo treatments. We continue to lift Russell up to the miracle maker. Health, peace, and strength.
Maryann Kavanaugh, Peggy Gains mother. Maryann is homebound and lives with chronic debilitating pain due to a dental procedure 7 years ago. We lift Maryann to our God of all possibilities.