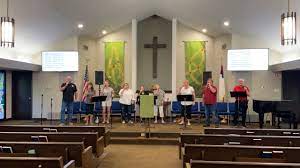 I love God's church! The PCF family is awesome and our singers are awesome, thank you Krista Kell for a beautiful solo yesterday and all of our dedicated choir members and sound techs.
Become an Evangelist: Please remember to like and forward our Facebook Sunday services to all the people you know who could use a word from Jesus and share our choirs beautiful music. Our online mission is becoming very powerful. We are getting more and more visitors because of our on line presence. You can help by sharing the video and spreading the good news. The object is to reach more people with God's truth. We would love to have people be with us at church on Sunday mornings but times are changing and we need to use whatever means we have to get God's truth to people. So get the word out, share the Sunday posts and the blog.
I want to get some info out to everyone this morning.
First some prayer updates:
Linda Cassens has had her hip replacement this past week. I failed to get her on my last prayer list and I apologize. Please lift Linda in prayer as she heals and goes through her rehab.
Wayne Miller who attended our service again this past Sunday is having his full scan to find out more about his cancer today at Siteman. Please lift Wayne to our healer Jesus and for God's peace.
Alexis Tharp texted me last night and asked for prayer for one of her best friends Theresa Kanapaux. She has breast cancer that may have spread into her bones. She also has been hospitalized recently for a blood clot in her lung. We are asking for God's mercy and healing touch for Theresa.
New Mission Project
Darlene Azar has a new mission project for the church:  – We will be collecting girls and boys sweatpants sizes 6-14 (kids small to x-large) for the kids at Franklin Elementary School in Belleville, IL.  Almost 90 percent of the kids are at the poverty level and will be in desperate need of warm pants this winter.  There will be a collection box outside the sanctuary and we will be collecting through October 17.  Thank you!  Darlene has been involved helping this school for some time now and I think this is a project our church can definitely get behind and help.
Praise Community Fellowship.   The church with No Walls! 9:00am Sundays at Esic Church located at 1000 University Drive Edwardsville.   God's Truth with Love and Compassion.