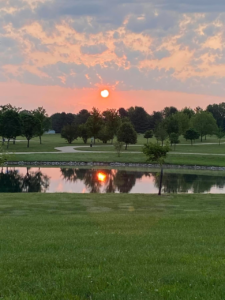 Photo by Sue Wooden, early Morning Glik Park
Dear PCF family and friends, last Sunday was Mother's day and for some reason unknown to us, we were unable to broadcast the service. We hope this Sunday our Facebook live feed will be good but the best way to enjoy the service is to be with us in person.
Who has God assigned to you?  I've been thinking about the calls and texts and people that come into my circle day to day. Many years back before I really began trusting and moving God up on my priority list, I never really thought much about all the people I came in contact with throughout the week. But now I see every meeting as a possible God share moment. I don't mean that everyone I meet I jump into a sermon on the Gospel, no it's that I have become aware that I am representing Jesus everywhere I go with every handshake, every smile, every hello, I am conscious about representing the King of the Universe.  Some days I do better than others, but I now am very aware that all my actions and words are either promoting the Love of Jesus or of the adversary.  Promote Jesus!
Our Church Calendar:
Sunday May 21, Sunday Worship, 10:30am
Monday May 22, Bible Study, 9:00am
Wednesday May 24, Choir Rehearsal, 6:30pm
Sunday May 28, Sunday Worship, 10:30am
Monday May 29, Bible Study, 9:00am
Our Prayer List: 
Guy Schmidt, Guy is Paige Burton's brother. He has been attending our services but has run into a health condition, still being diagnosed. He has been in the hospital but is back home now waiting on test results, Please add Guy to your prayers for Gods healing grace, strength, peace and wisdom for the doctors treating him.
Keith Moran, Keith was a neighbor of mine and lives here on Dunlap. Keith has been diagnosed with a neurodegenerative disease. Please lift Keith and his wife Rachel to God's strength, peace, mercy, and love.
Brody Sedlacek, keep praying for Brody as he continues completing his cancer treatments. Pray for God's healing, strength, and His peace.
Melissa Schlee, Melissa has been attending our services regularly. Melissa deals with atrial Fib issues which are frightening and sometimes debilitating. She is going to see a cardiologist soon. Please pray that God will bless her and her doctors to figure out a treatment.
Mike Portell, Mike is having tests to prepare him for a major back surgery. He has been suffering from mobility issues and pain for quite some time. Please keep Mike in your prayers as he and Ruth prepare for this surgery. We ask that God will guide the surgeons and the doctors with divine wisdom that his surgery will be a complete success in eliminating pain and providing better mobility.
Dennis Terry, some of you probably know Denise from the banking business here in town. He was part of Clover Leaf bank for years and then First Mid. He has since retired. Dennis has a form of Cancer of his liver and is on a transplant list. Please lift Dennis that God gives him strength and peace during this time of waiting and that the perfect donor will be provided my God's mercy.
Sonny Hankins, Sonny is the neighbor of Joanie and Dennis Kuba. Sonny has been diagnosed with Multiple Myeloma. We lift Sonny to God's healing grace and for His peace and comfort while doctors determine his treatment.
Jane Hyten, Jane is going to be transferred to  a higher level care facility, please pray that Jane will be filled with God's peace, joy, and wisdom as she enters this new chapter of her life.
Tim Allen, Kory Kuba's brother-in-law has been diagnosed with lung and liver cancer. Please lift Tim and his family to God's miraculous healing power and strength. We also pray for God's peace.
Praise Community Fellowship, A Joyful church with No Walls! 10:30am Sundays at Esic Church located at 1000 University Drive Edwardsville. God's Truth with Love and Compassion. Praise Community Fellowship Church is a 100% volunteer Church. We have no salaries or paid positions. Come be part of a Joyful Christian Family.  Have questions? Call Pastor Kent @ 618-334-3575. Or Board President. Gary Watson @ 409-781-6510